To throw or not to throw? That is the question, and SARSTEDT has the answer!
A major partner of the medical and scientific sectors since 1961, the German company develops, manufactures, and markets devices and consumables for these same sectors.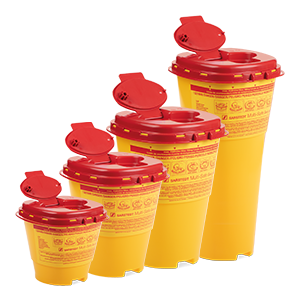 Among their product range, the company offers "multi-safe waste boxes", most known as sharp containers,widely used in the medical field, allowing the safe elimination of used sharps such as syringes or needles. A range in constant innovation, meeting the specific needs of health care institutions.
The company also offers a wide range of products for diagnosis and laboratory, which once they have expired are considered as infectious waste and must be treated so that they can be disposed of in complete safety, without environmental and human risks.
The company chose Tesalys to study the compatibility of its pallets of expired goods and sharp containers to our on-site treatment systems.
A 2 in 1 partnership!
The expired and out-of-use products are shredded by our STERIPLUS™ 40 systems, avoiding their transport and incineration, an eco-responsible initiative but also a continuous improvement process for our equipment!
Secondly, the processing of obsolete safety boxes allows our Research & Development department to carry out tests on the reliability and quality of our shredders and thus improve them.
This partnership also allows SARSTEDT to work on the environmental study of their new products and test their compatibility with our treatment systems. A partnership that links "the useful to the responsible" by allowing technological and ecological advances for our two productions!
We work every day to offer you a range of products that is increasingly adapted to your needs, and that can meet the problems encountered by healthcare systems in terms of the treatment of infectious waste.
We warmly thank SARSTEDT for their collaboration and their approach. Tesalys is proud of this initiative, which encourages the eco-responsibility of health systems!